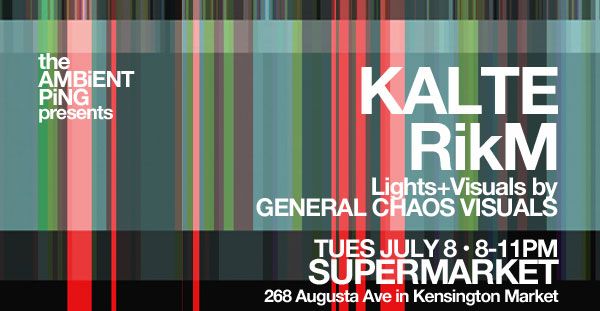 We're happy to inform you that our musical project Kalte will be returning to The AMBiENT PiNG for a performance on Tuesday July 8th at the Supermarket in Toronto. We always enjoy playing at the Ping, and we hope that you'll be able to join us for a set of abstract and abrasive tracks inspired by polar winds and cryogenics.  Visit our Facebook event to let us know that you'll be coming.
In addition to a set by Kalte, Rik will also be performing a solo set featuring work from his new project RikM. The debut release by RikM, "Clinical Trial", is forthcoming from Crime League, visit http://www.crimeleague.com to find out more.
For those of you who won't be able to make it out that evening, we're very happy to inform you that the show will be live streaming on the Ambient Ping You Tube channel beginning at 9pm (thanks very much to Jeff Howard for his assistance).