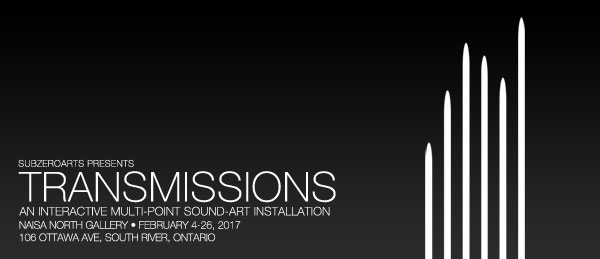 TRANSMISSIONS at NAISA North Gallery – Feb 4 to Feb 26, 2017
Join us February 4 to February 26, 2017 at NAISA North Gallery & Media-Arts Centre
SubZeroArts is very pleased to announce that our latest installation Transmissions will be presented by New Adventures in Sound Art at NAISA North Gallery in South River.
Transmissions is a multi-point sound art installation that uses a collection of touch-sensitive antennae to trigger abstract sounds and tones, creating a unique sound environment for audience participants to explore. We're thrilled to be working with NAISA again, and we hope that you'll come out and see Transmissions if you're in the area!
NAISA North Gallery is located at 106 Ottawa Avenue, South River, Ontario, and Transmissions will be on display from February 4th to 26th on Saturdays and Sundays between 11am and 4pm. More information about NAISA can be found on their website.
For more information:
NAISA (New Adventures in Sound Art)
About SubZeroArts