Work has begun on LIGHTSOUNDPLAY! for Nuit Blanche Ottawa 2012 and things are falling into place quickly. It's always exciting when you begin a new project to see it take form and shape, and we're very pleased with the progress so far. We can't wait for you to see it in September!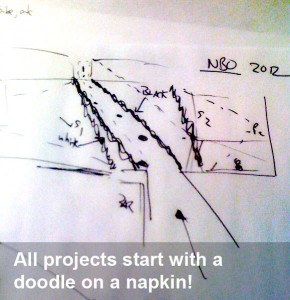 As a completely independent art-project, we hope that you'll be able to help us by making a donation through our Donation Page. Every dollar goes directly towards materials and mounting the installation and all your donations make a huge difference! Thank you very much to those of you who have already made a donation to help us out with this project, we really appreciate your generosity!
For those of you in the Toronto area, our musical project Kalte will be performing as part of the Ambient Ping's 13th Anniversary Celebration along with our good friends dreamSTATE and General Chaos Visuals on Tuesday August 14th at the Supermarket in Kensington Market. Stop by and hear some great music, and ask us about LIGHTSOUNDPLAY!… we'd be delighted to tell you all about it!