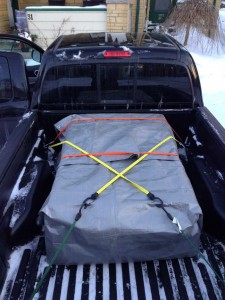 The cubes are packed, software has been tested, playlists have been made for the road, and we have snacks to munch along the way.  We're on our way to Montreal for Art Souterrain, and we can't wait to share our latest installation with you!
TouchCubes will be showing at the Centre de Commerce Mondial de Montreal, which is located at 747, Car Victoria. We'll be there in person on opening night between 8pm and 1am on Saturday February 28th. No worries if you can't make it out then, TouchCubes will be on display until March 15th.
We'll be livetweeting throughout the weekend so if you'd like to keep up to date with what's happening be sure to follow us at @SubZeroArts on Twitter.
Gotta run, we have a lot of driving to do today.  Speak to you soon!
Rik and Deane