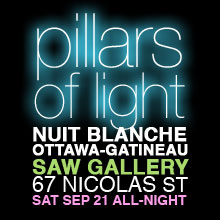 SubZeroArts' latest light/sound installation "Pillars of Light" makes its debut at Nuit Blanche Ottawa Gatineau on September 21st 2013!
SubZeroArts are very pleased to announce that our latest light/sound installation "Pillars of Light" will make its debut at Club SAW in Ottawa, Ontario on Saturday September 21st, 2013 as part of Nuit Blanche Ottawa Gatineau! Inspired by the beauty of outer space, "Pillars of Light" is a brand new participatory environment designed for NBOG where movement influences a series of illuminated columns within a three dimensional space, creating an active linkage between the audience and their environment through an evolving aural/optical spectacle that evokes nebulae, auroras and other interplanetary phenomena.
A recurring theme in our work has always been the stimulation of response in multiple modalities, and this year's theme of SUPERNOVA really inspired us to move our work beyond the idea of a transient canvas into something more substantive, something with a greater physicality. With "Pillars of Light" we've designed a much more immersive space where audience members can experience a greater interaction between themselves and their environment as defined through generative light and sound. "Pillars of Light" is a logical extension and development of our past work, and we're really looking forward to sharing it with all of our friends in Ottawa!
Keep checking back with us over the next few weeks to find out more about "Pillars of Light", or better yet Like us on Facebook or follow us on Twitter!