At the end of the day, it all looks very easy.  You see a finished installation and it looks awesome and you marvel at how great it is, but very rarely does it come to mind how long it takes on the back end to get everything ready.  We can assure you that it takes lots of time.  Like, really, lots and lots of time.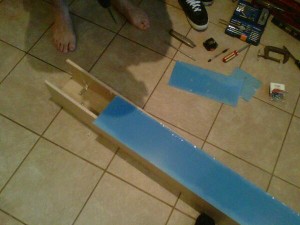 We started putting everything together on the weekend, and even though we had planned everything out in intricate detail (on napkins), even though we spent a few hours at the hardware store finding the right tools, even though we were pretty much ready for anything, it still took a long time putting it all together.  And we still have a long way to go, but it will all be worth it when we can finally share Pillars of Light with you.
We can hardly wait!
Rik and Deane
SubZeroArts
Be sure to RSVP for "Pillars of Light" on Facebook or follow us on Twitter!