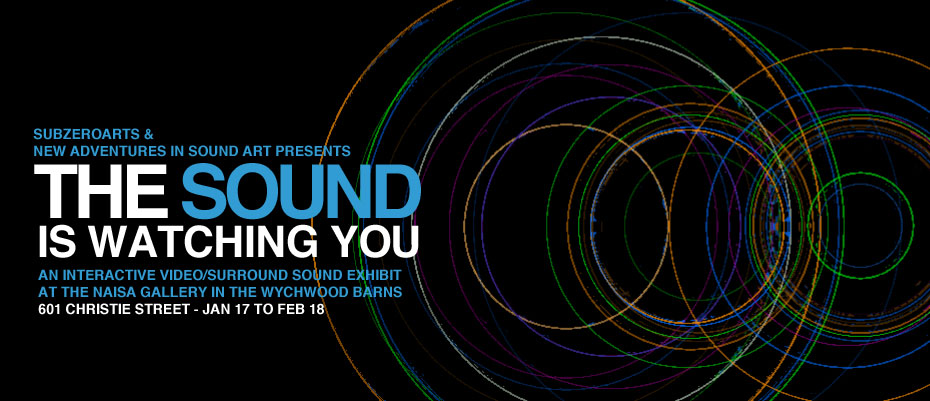 SubZeroArts is thrilled to announce "The Sound is Watching You" as part of New Adventures in Sound Arts' annual Art's Birthday Celebration for 2013!  SubZeroArts' installation "The Sound is Watching You" will be displayed as part of New Adventures in Sound Arts' annual Art's Birthday Celebration in the NAISA Space at  Artscape Wychwood Barns in Toronto, Ontario from January 17 to February 18, 2013.  "The Sound is Watching You" is a surround-sound and visual experience that responds to audience participation, where audience movement is transformed into a symphony of constantly morphing and re-generating music and light. In keeping with SubZeroArts' ideal of audience interaction, "The Sound is Watching You" is a multimedia experience that's fun and engaging for audience members of all ages.
SubZeroArts is a group of visualists, sound artists, technologists, fabricators and software engineers working in contemporary art and science. Founded by Deane Hughes and Rik MacLean, their goal is to create installations that allow visitors to interact with the performance and contribute to their own artistic expressions.  Formed in 2009, SubZeroArts has presented a variety of works at such prestigious events as the Burning Man Festival (Nevada, 2011), Nuit Blanche Toronto (2011), Come Up to My Room (Toronto, 2012) and Nuit Blanche Ottawa (2012).
New Adventures in Sound Art (NAISA) is a non-profit organization, based in Toronto, that produces performances and installations spanning the entire spectrum of electroacoustic and experimental sound art. Included in its productions are: Deep Wireless, Sound Travels, Arts Birthday and SOUNDplay. The objectives of NAISA are to foster awareness and understanding locally, as well as nationally and internationally, in the cultural vitality of experimental sound art in its myriad forms of expression. This objective will be achieved through the exploration of new sound technologies in conjunction with the creation of cultural events and artifacts.
Art's Birthday is an annual event which began in 1963 by French artist Robert Filliou to celebrate the presence of art in our lives. It has since been celebrated on January 17 as an annual exchange-art event by a collection of artists and artist organizations around the world. Happy 1,000,050th Birthday, Art!
Visit "The Sound is Watching You" to celebrate Art's Birthday and explore an evolving world of sound and visuals… all created by you!
Rik and Deane/SubZeroArts