SubZeroArts is pleased to announce their latest work LIGHTSOUNDPLAY! will debut at the Saw Gallery in Ottawa, Ontario as part of the first-ever Nuit Blanche Ottawa event on Saturday, September 22nd 2012.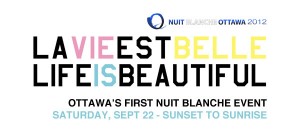 LIGHTSOUNDPLAY! is a new participatory multimedia installation from SubZeroArts that will transform the Saw Gallery space into a constantly evolving organic visual and auditory experience where audience motion will be translated into images and sounds for participants to explore and enjoy – a panoramic display created by you!
LIGHTSOUNDPLAY! builds on previous work by SubZeroArts and expands on the group's ideal of using technology to create transformative immersive environments to be explored. Join SubZeroArts at the Saw Gallery on September 22nd, and experience LIGHTSOUNDPLAY! for yourself!
SubZeroArts is a group of visualists, sound artists, technologists, fabricators and software engineers working in contemporary art and science. Founded in 2009 by Deane Hughes and Rik Maclean, SubZeroArts has presented a range of immersive art installations in Toronto, and they are very pleased to be presenting their work in Ottawa for the first time. To find out more, please visit http://www.subzeroarts.com
Since its opening in 1973, the Saw Gallery in Ottawa has been presenting politically and socially engaging work by some of the world's best-known artists and has become a prime destination for contemporary art in the Nation's Capital. To find out more, please visit http://www.galeriesawgallery.com/
On Saturday, September 22, 2012, Ottawa will host its inaugural Nuit Blanche event, transforming the city into a pulsing centre of colour and creativity. Art and cultural venues throughout the city will remain open late into the night, inviting art lovers to experience a truly unique artistic experience. Visit http://www.nuitblancheottawa.ca/ to find out more.
Like SubZeroArts on Facebook, follow SubZeroArts on Twitter @SubZeroArts