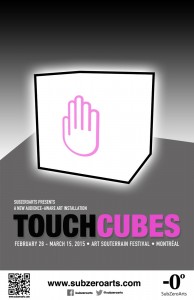 One week from tonight we'll be in Montreal to debut our latest installation TouchCubes as part of Art Souterrain, and we are totally looking forward to meeting you all!  We've been hard at work cutting acrylic, checking connections, wiring wires, and making countless trips to the hardware store, all with the intention of making the most awesome installation we can for you to enjoy. We can hardly wait for you to see it!
A few more details for those of you who have been asking: TouchCubes will be showing at the Centre de Commerce Mondial de Montreal, which is located at 747, Car Victoria.  We'll be there in person on opening night Saturday February 28th, but if you can't make it out then, TouchCubes will be on display until March 15th.  We hope you'll be able to stop by!
Last but not least, we're always grateful to those of you who have asked if we need any help putting TouchCubes together, and we always appreciate your support.  The best thing you can do would be to tell your friends about us, and help signal boost what we're doing by sharing our posts on your Facebook, Twitter, Tumblr and what have you, and of course we would be thrilled if you'd like to make a donation to cover some of our costs!
Gotta run right now, we have about 60 gazillion things to do today, but we look forward to chatting with you again soon!
Rik and Deane