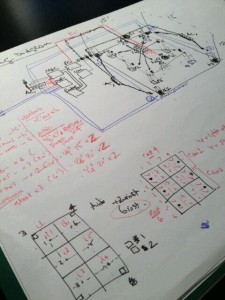 Reader response to our last sketch on a napkin post was very enthusiastic, so we thought you'd like to see an even more exciting and technical sketch. Obviously we can't tell you what it all means exactly (we do like to keep some air of mystery at times), but we trust that this very exciting document will further whet your appetite for Pillars of Light!
By the way, we'd be most grateful if you'd tell your friends about what we're doing.  Obviously we'd like as many people to come see Pillars of Light as possible, so it would be greatly appreciated if you could spread the word on Facebook or Twitter or whatever social networking media you're most fond of.
Speaking of social media, if you haven't already RSVP'd to Pillars of Light via Facebook by all means please do!  We're looking forward to seeing you all and we'll be sure to say hi on the 21st!