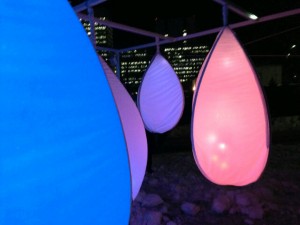 To say the last few weeks have been busy would be an understatement, but we're very pleased that our installation  "The Sound is Watching You" at the NAISA Space in Toronto and our joint presentation with InteractiveArts and SODI Designs "Icedrops" at the IllumiNation display at Winterlude in Ottawa are both open!  It's been quite a challenge putting things together for two installations in two cities at once, but we're thrilled by all the support and encouragement you've given us over the last few weeks, and we couldn't be happier that so many of you are getting the chance to enjoy what we do!
We always like to hear what you think of our work, so if you've made it out to see one (or both!) of the shows we'd love to hear what you thought of them! Be sure to send us any pictures or video you might have as well, we might even post them here if you feel like sharing…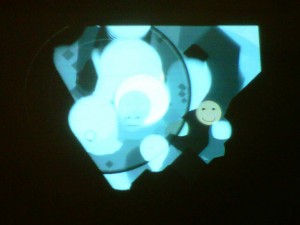 If you're around Toronto and you have the chance to stop by, "The Sound is Watching You"  is on display at the NAISA Space at Artscape Wychwood Barns in Toronto, Ontario, and  runs from January 18th to February 18th, 2013. "The Sound is Watching You" is a surround-sound and visual experience that responds to audience participation, where audience movement is transformed into a symphony of constantly morphing and re-generating music and light. We'd love to see you there!
If you're in the Ottawa area, "Icedrops" is being presented from February 1st to 18th, 2013, as part of the IllumiNation: Outdoor Light Art Gallery at Winterlude 2013 in Ottawa, Ontario.  Co-presented by InteractiveArts, SODI Designs and SubZeroArts, "Icedrops" is an interactive light installation featuring a series of  suspended sculptures that instil a clean opaque architectural beauty during the day, and become bioluminescent light-art during the night. Be sure to dress warmly, it gets pretty cold out there!
So you'd think that with all this activity going on that we'd be planning on taking a break in the next few weeks after the shows are done.  You'd think that, wouldn't you?  Actually we're already planning our next event, and we can't wait to tell you all about it!
Rik and Deane/SubZeroArts