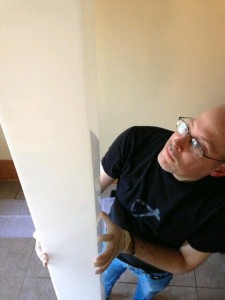 We're pleased to report that we're moving along according to schedule, and we're almost ready for next week's debut of Pillars of Light.
We finished assembly of the actual pillars yesterday evening and we're pleased to say that all the time spent breathing in glue fumes has resulted in some fine work that we're both very pleased with. Needless to say there's still a lot more that we have to do, a couple of challenges that have yet to be solved, and of course we have to physically get to Ottawa, but we're on the right track to get everything done on time. Which is always a good thing when you have a hard deadline like a show…
We're really looking forward to seeing you at Nuit Blanche Ottawa Gatineau next week, and if you haven't already RSVP'd through Facebook by all means please do so we know to look for you.  We can hardly wait to see you!