Congratulations Ottawa! What an amazing evening of arts and entertainment! SubZeroArts is honoured to have been part of your first Nuit Blanche and we are totally thrilled that so many visitors enjoyed LIGHTSOUNDPLAY!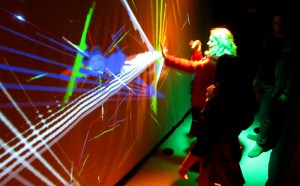 We'd like to thank Megan, Lainie and Stefan of the Nuit Blanche team for inviting SubZeroArts to participate in this fantastic event, and Jason, Kathleen and everyone else at SAW Gallery for hosting us.
But most of all, we'd like to thank everybody that came out to take part in LIGHTSOUNDPLAY!, especially all of you that told your friends about us and then came back to show them that we really were as impressive as you said!
We designed LIGHTSOUNDPLAY! to be an environment created by everyone — an interactive experience that was as unique as the people that participated in it — and it was YOU that made it into such an awesome spectacle!
Thank you again. We have big plans and big ideas in store for you for 2013 and we hope that you'll be there when they're unveiled! Be sure to keep in touch with SubZeroArts by liking us on Facebook, or by adding us on Twitter, or by following our Tumblr.
All the best,
Rik and Deane of SubZeroArts
http://www.subzeroarts.com
P.S. SubZeroArts is 100% artist-funded, so if you'd like to support LIGHTSOUNDPLAY! with a monetary donation, we would gladly accept any contribution — large or small — with our utmost thanks and gratitude. Visit our donations page to find out more.