Screens and projectors? Check!
Cameras? Check and Check!
Mac, firewire, cables and power bars packed? Check!
SubZeroArts homework printed out? Check!
SZA buttons made? (Eep, don't tell Deane, but I haven't started on those yet…)
Duct tape? Check and double check!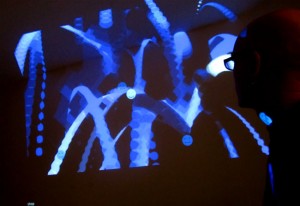 So the graphic test has been completed and all the gear is packed and ready to go. Today we bought a drill and 40 feet of copper wire, and we're about as ready as we'll ever be. We'll be leaving Toronto tomorrow morning and we'll be setting up Saturday afternoon in anticipation of Nuit Blanche Ottawa 2012 on Saturday night.
To say that we're excited is an understatement, and we wanted to thank all of you for your support and encouragement and well wishes and donations and everything. We're very lucky to have such an amazingly supportive group of friends and fans and followers, and we hope we'll see a bunch of you at the SAW Gallery on Saturday night. And for those of you that can't make it out, we'll be sure to take lots of pictures and video and stuff so you can live the LIGHTSOUNDPLAY! experience vicariously through us!
BTW, it's not too late to tell your friends about us, or to make a donation, or to ask them to like our facebook page or to follow us on Twitter!
Anyway, we probably won't have much chance to update here between now and the event, but we'll be live tweeting the whole experience on our twitter feed @subzeroarts using the hashtag #szanbo12. We hope you'll follow along with us through the weekend.
We'd also like to thank the very kind people at Artengine who very thoughtfully mentioned LIGHTSOUNDPLAY! as being an installation of particular interest. We hope that we'll not only live up to your expectations but surpass them!
Gotta run, those buttons aren't going to make themselves…
Rik and Deane/SubZeroArts