We've been very pleased by all of your support for LIGHTSOUNDPLAY! over the last few weeks, and we're very flattered to hear that you're just as excited about it as we are!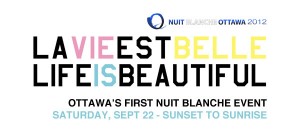 Now amidst all your excitement and comments and general interestedness, we're seeing a recurring question coming up, and though it's taken a few different forms, it ultimately translates to "So what can I do to help?"
And in some ways, that's the coolest thing about doing an installation like this! It's so cool that you (yes YOU!) want to be a part of it and make it happen!  That kind of interactivity is at the heart of everything we do as SubZeroArts, and we're thrilled to have inspired you to do something even before we've shown you anything!
So in response to all of you who have asked "So what can I do to help?", here's a few things you can do for us that we'd really appreciate…
1) Help us spread the word!  Give us a signal boost!  Like us on Facebook!  Retweet some of our tweets!  Help us spread the word about LIGHTSOUNDPLAY!  Tell your friends about us, send them a link to our site, post a blog about us and let your readers know what we're doing, hire a skywriting biplane to make a great big sign in the sky, make a post about SubZeroArts in your favorite community, or use your connections with Lady Gaga to ask her to tweet about us!  By letting people know about us, you're increasing our broadcast range and increasing the support for our project, and that's pretty cool, right?
2) Make a donation to SubZeroArts!  Okay, it sounds mercenary, but the truth is that it costs a lot of money to do something like this.  And admittedly we could use some help to upgrade some of our gear and buy some more equipment and ultimately make LIGHTSOUNDPLAY! the best possible installation we can.  We've set up a donations page on our website, and every donation we get will go towards making LIGHTSOUNDPLAY! into the  most  awesome installation it can be!
3) Get us in touch with more people!  Okay, this is slightly different from spreading the word.  This is our first project outside of our home base in Toronto, and we aren't as well linked as we could be.  Maybe you know somebody in Ottawa that can help us spread the word, or maybe you have a friend that writes for an Ottawa event blog that might be interested in what we're doing.  Maybe your brother lives in Ottawa and he can invite his curling team to drop by and see what we're doing, or maybe your cousin's book club would be interested in an outing to see LIGHTSOUNDPLAY!  Get them in touch with us so we can keep them in the loop too!
So there you have it, three simple things that you can do to be part of LIGHTSOUNDPLAY!   If you're looking to be part of it, these are three ways that you can help us out and of course we'd be really grateful for your efforts.
So what can you do to help?
Rik and Deane/SubZeroArts
PS  Like SubZeroArts on Facebook, or add us on Twitter @subzeroarts to keep in touch with us!