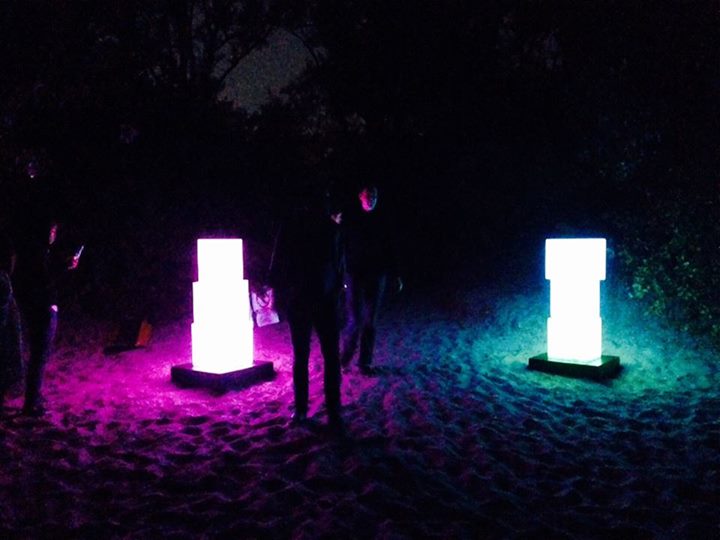 Wow, what an amazing weekend! Camp Wavelength was definitely one of the highlights of the summer, filled with awesome music, fantastic art, and new friends. SubZeroArts were really flattered to be included in such an excellent collection of talents, and we're really thrilled that you all enjoyed Cubeism so much!
Every day of the weekend had some really amazing highlights for us. All the bands we saw were great, particularly Loscil, Pierre Kwenders, and Absolutely Free and Petrina Ng. We also really enjoyed the art installations, especially our neighbours the Laser Dragon and the Space Ants, together with the Cubes we think that our shared little neck of the woods was a pretty cool place to be.
In-Synch were fabulous, and we totally want bat-wing swimming caps now, and Open Fortress were another highlight with their haunting performance in the lake on Saturday. The weather was perfect, just the right blend of overcast light to complement the otherworldly element of their work.
We want to thank all of the event staff and volunteers who worked so hard to make everything happen, you're all amazing and incredible and awesomely awesome and the best of hosts. Particularly big applause goes out to Evely, who drove us everywhere we needed to go all weekend long, the sound and power staff who stretched cables and gave us sound and power, and especially Aaron Dawson, who was such an incredible support for us in the weeks leading up to the event and was able to help us with everything we needed over the weekend. It takes a ton of people to make an event like this happen, and all of you deserve a big huge standing ovation for everything you've done!
So now that the weekend is over, we're wondering if we can do it again next weekend?